I hit a shank in a qualifier last week. It wasn't the full hosel shank that you're probably envisioning—it was a shank on a chip-out. I was already in trouble and then somehow made things worse by hitting the worst shot that exists.
It got me thinking about the bad swings in our lives. Depending on the handicap, bad swings either define your game or derail it. Those that struggle to break 100 live in a suffocating bubble of bad swings. It's a snap hook followed by thin iron shots followed by a debacle in the bunker followed by a double or triple bogey. That's golf to a lot of us.
To others, a bad swing shocks the system. It's like that scene from Black Sheep where David Spade and Chris Farley are talking about a fly hitting their windshield.
"Oh man, that was wild. It was so weird. He was coming, just going. My life's good. I'm alive, alive, alive, DEAD!" 
Everything is fine until it isn't and when it isn't, it really, really isn't.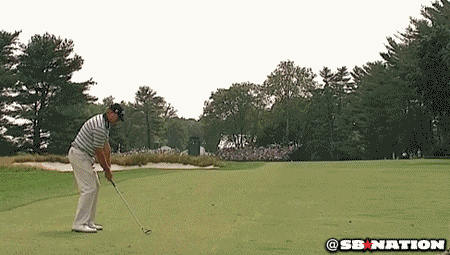 The strange thing about the bad swings is, when they happen, they don't just disappear like smoke from a cigar. A bad swing stinks—it can ruin a good round or doom an early one … but the fear that follows is what makes the extremely bad shots so bad.
It isn't the shank that's scary, it's the fact that the rest of the day you're hoping you don't do it again. You're making bad golf swings to avoid the truly dreadful one. You're committing to constant toe-pulls that miss the green left and lead to bogeys because you're so fearful of finding the hosel again.
It's the same as topping a 3 wood (also something I did during the qualifier). The top was bad, sure, but you spend the rest of the day with what turns out to be a 13-club bag because there is no way in hell you're pulling the fairway wood out again on the tee, even if the hole calls for it. The fear has done its job.
I wonder about the strongest minds in the world. The golfers like Tiger and Brooks and Annika; how negative can those minds get? I'm assuming they suffer the same things we suffer mentally (remember the Scottie Scheffler story before Masters Sunday a year ago where he was in tears thinking he wasn't ready to win?).
I wonder how those humans find a way to overcome the fear that we all deal with on a daily basis when playing golf, how they are able to hit an awful shot and then simply get over it.
At the Memorial back in 1999, Tiger pulled off one of the best examples of this kind of mental recovery. With Jack in the booth, Tiger basically went under a chip shot for birdie. He hit an awful golf shot. One that a lot of us would hit in a similar situation. Water long, a gnarly, downhill lie in the rough; he flubbed it and then he makes the next one with one of the two greatest golfers ever in the booth (and definitely the greatest golfer to ever play at the time) talking about how tough it was going to be to make five. Jack was saying what we all were thinking, yet Tiger, like Jack in his prime and all the other special golfers that we've watched before him, accepted the awful shot and somehow pushed it out of his brain in a matter of 90 seconds.
It's amazing how golf is entirely about defeating your own mind. If you can do that, you'll have a good day. If you can't, those bad golf shots will float around in your conscious or subconscious or wherever it is they live until you run across them again and are reminded of that fear.
I qualified, by the way. I shot 74 to get in right on the number. I don't remember the 72 other shots I hit that day. I know I made a long putt for birdie on a par-3 and hit an awesome wedge out of the fescue on 18 to set up a two-putt par. But the shank and the top? I'll remember them all summer.
Golf is wild and the bad ones linger.
---
This piece originally appeared in The Fried Egg newsletter. Subscribe for free and receive golf news and insight every Monday, Wednesday, and Friday.